A Christmas hat for Brian. Jared Flood makes very nice hat designs; here, the cabling deals well with the decreases in a way that many don't. The yarn is one of the Sundara yarns I got when I subscribed to their yarn party for a year, a silk/merino blend. Fun to work with, and nicely soft.
Another Christmas hat, this one for Jan. He made the mistake of admiring a previous hat in this pattern, so I put it on the list for later. By the time I made it, I think he had forgotten. Oh well. :) Also, it came out a little large; the last one came out a little tight, so I tried to size it up, but it sized a little too up. Also oh well.
The ruffles were a little tedious to put together and weave all the ends in, but they came out really cute. I also am very fond of the colorway - dark blue overall but with jewel toned color.
The yarn is from White Birch Fiber Arts, one of my favorite etsy yarn dyers. The pattern is "Bow Ties are Cool", and I did it completely wrong nearly all the way to the heel ("kb" meant "knit below" rather than "knit back"). Rather than rip back, I unraveled one column of stitches at a time and picked them back up with a crochet hook - tedious, but less frustrating than doing the whole leg again (especially when knitting two at a time).
Maelstrom! There were a couple of places where the pattern wanted to rotate on the needles, which is always a pain in the neck for knitting two at a time, but I think I have the hang of it finally.
Finally, a whole bunch of pussy hats. The last handful of them I traded for donations to the National Center for Trans Equality, but once spring came and winter hats were less necessary, I've moved to other projects. (But the offer still stands, if you wanted a hat and never got one.)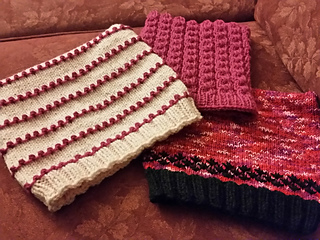 (comments disabled on LJ; enabled on DW) http://firstfrost.dreamwidth.org/243668.html
Tags: knit